Organic Local SEO Campaigns
Congratulations! You have a web site. A Sign out front, a business card with your address. And you have a business phone number. The phone number is listed in the phone book. Don't forget
Organic Local SEO Campaigns
to complete the marketing mix.
| | |
| --- | --- |
| | Make sure your web site listed in the search engines. Properly represented in the local search results. Far cheaper than advertising in the paper or on the radio or TV, let your customers find you and your Website? Focus on incorporating your Organic Local SEO Campaign. |
Do all your competitors appear when you search and a term that you should also appear? Or don't you and your website appear at all?
Want to appear on the first page(s) of the Search Engine Results Pages.
Let us complete a review and make suggestions as the the proper path you need to take, see below: For the elements of our analysis.



Whether or not you have a brick and mortar store, it is vital to ensure your web site is ranked well in searches for your local area. What does this mean?
People aren't just searching for 'widgets' anymore they are searching for "widgets AND my town" more and more trying to narrow their searches to their own neighborhood. Why is this?
People want to know whom they are dealing with online. They want to be able to visit your business location for your offerings, or at least have the peace of mind that they could if they wanted to.
For example, if you own a dry cleaning business, potential customers want to not only see your prices; they want directions and a map to get to your store.

Even in the face of a global economy more and more people are realizing the importance of community and want to give their business to local merchants.
Here are some additional ideas to think about when adding your site to directories on the web.
Community: Yahoo definitely excels when it comes to including community in local search. They are combining their Yahoo 360 social networks with local listings. The results are most helpful for people who wish to find information relating the their own area.
When you select a listing for a restaurant, for example, you will see all of the consumer-generated recommendations. If a recommender is in your group of contacts, a star is placed next to their recommendation. You know not only other consumers' opinions, you know when those opinions are from people you know.
Mobile: Do not neglect the mobile search market in your Organic Local SEO Campaigns.

With the advent of systems like Verizon's new technology and the iPhone and Blackberry, people search for the nearest theater using their handheld device.

Then they will search for that great martini bar or Plumber that is nearby and open after the show.
Press Releases: Is your business doing something new and exciting online or offline? Are you you're promoting it? Take advantage of free press releases from services.
Local City Searches: CitySearch is a major provider of local information for sites including MSN, Ask.com, Expedia.com, Ticketmaster.com, and many others.
Contact information on your site: Have a physical address and phone number within an "Signature Area" tag at least on your contact page and one other page; the best option would be the homepage. By far the best option is to have your address "Signature Area" on all pages of your site. Such information builds trust rank value for your web site too.
For example, if your website was, RalphsPizza.com, you could add the following at the bottom of all your pages:
RalphsPizza - Located in Brookfield, Wisconsin.
Or something like this:
RalphsPizza
1223 Mockingbird Lane
Brookfield, Wisconsin 53051
262-555-1212
To make sure that your site is matched up to relevant local directories.
Don't forget to add the required ZIP and Area Code metatags to aid the search engines.
So your
Signature area
should be on all your pages, at the bottom, and it should contain your businesses particulars just like on your business card:
Name
Address
City & State
Zip code
Hours Open
Phone number (Include the area code)
email link
Did you know that web site design directly affects your Search Engine Rankings?
Many of the cool design techniques employed by visual web designers can actually prevent most search engines from properly indexing your site! Dynamically generated pages harm your chances for a preferred listing, and frames and FLASH can often block search engine spiders totally!
Strategic Review & Analysis
• Report Assess and analyze existing site(s)
• Review organizational marketing and branding objectives
Existing Website SEO Enhancement
• Recode existing website
• Enhance content, images, site maps, and build new pages
• Complete site redesign as warranted
Keyword Phrase Campaigns
• Initial keyword phrase selection & analysis
• Baseline Report
• Gateway/Doorway page creation
• Manual submission to top 10 search engines
• Initial electronic submission reporting
• Online, personalized reporting center
• Quarterly results reporting Micro-Site Development SEO optimized,
• keyword-focused website creation
• Product or Service focused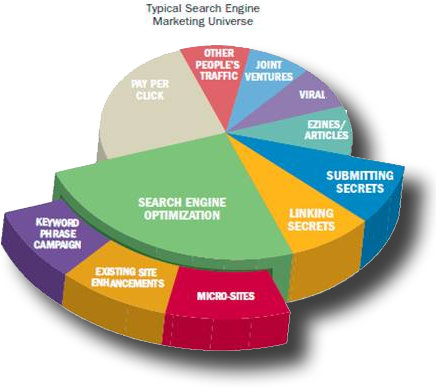 Contact us now, to start appearing in the search engines, for the
keyword phrases
you want.
Click the email link below, to
start your Organic Local SEO Campaign ...now!